EXPAND YOUR HORIZONS & PAVE THE WAY FOR THE FUTURE
Mahan is honored to enrich working professionals with a high-quality international curriculum and multidisciplinary teaching methodology in a technology-driven world. Our students enjoy one-to-one academic support from international professors, mentors, and faculty advisors.
Mahan Business School Partners
Executive Master of Business Administration programs in Mahan are a life-changing learning opportunity for Iranian students, executives, and entrepreneurs to boost their capabilities and skills to face complex business problems to lead the future.
MBS MEMBERSHIPS AND PROGRAMMES ACCREDITATIONS

AMBA
The Association of MBAs (AMBA) is the international impartial authority on postgraduate business education, established in 1967 by a small group of business graduates with the aim to raise the profile of business education and the MBA qualification in UK and Europe.
PRME
The Principles for Responsible Management Education (PRME) is a United Nations-supported initiative founded in 2007 as a platform to raise the profile of sustainability in schools around the world, and to equip today's business students with the understanding and ability to deliver change tomorrow.

AACSB
AACSB International (AACSB), a global nonprofit association, connects educators, students, and business to achieve a common goal: to create the next generation of great leaders.
IACBE
The International Assembly for Colligate Business Education (IACBE) is a specialized accrediting body for business and business-related degree programs at the baccalaureate and graduate degree levels in colleges and universities. IACBE measures the effectiveness of business education thorough outcomes assessment.

ATHEA
The Association for Transnational Higher Education Accreditation (ATHEA) is a voluntary, non-governmental, membership association that is dedicated to quality assurance through institutional accreditation.

ACBSP
The Accreditation Council for Business Schools and Programs (ACBSP) is the premier accrediting association for business schools and programs with a focus on teaching excellence.
Mahan Mahan is honored to invite international professors and academics all over the globe to Tehran to allow students to support their professional occupation or family responsibilities and earn an international and recognized MBA or DBA degree at the same time.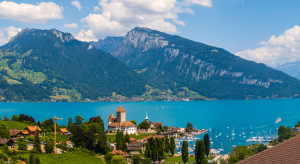 Swiss UMEF University SWISS UMEF UNIVERSITY was founded in Geneva on April 26, 1984 by Professor Marc-François Maret, under the name of Institut Supérieur de Gestion et Communication (ISGC), with
See More »