About Mahan Business School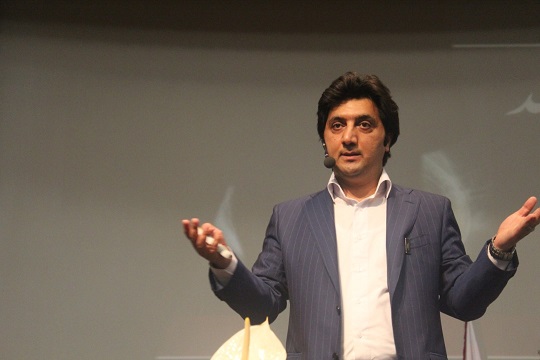 MESSAGE FROM THE LEADER OF MAHAN
I praise a teacher who teaches contemplation not thoughts.
In the world of communication, our surrounding environment is changing rapidly. Hence, living gloriously in the Global Village demands specific superior skills. Optimal utilization of existing changes and opportunities would be merely made by acquiring managerial capabilities. Consequently, gaining recent knowledge and advanced sciences and technologies as well as educating ap¬plied knowledge techniques are vital.

With the cooperation of well-rounded managers, active in the fields of industry and services, we aim to walk effectively towards transferring applied knowl¬edge to future managers and have no other mission but education based on science, skill, and art of management.

And have no other mission but educating based on science, skill and art of management.
"Be happy and make others happy"
Leader of Mahan
Mahan Business School is the sister organization of Mahan Holding which was founded in 2001 to raise professional business leaders. It's been over two decades that Mahan as the first business school and business leadership school in Iran, with the approval of international evaluation authorities and the Ministry of Science, Research and Technology, has been at the forefront of training and empowering managers in various management areas in the country's education industry. With the slogan of education rather than credentials, Mahan Business School organizes short and long-term courses such as Leadership, Comprehensive Program for Professional CEO, Comprehensive Program for Start-Ups, Comprehensive Program for Professional Consultants, DBA, MBA, Virtual Training, Business Leadership, Comprehensive Program for Professional Sales Leadership, Comprehensive Program for Professional Marketing Manager, Comprehensive Program for Digital Marketing, Comprehensive Program for Brand Management, Comprehensive Program for Professional Coaching and Comprehensive Program for Global Marketing.
Mahan Business School has various departments, including International Training Center, Research Center, Virtual Training Center, Psychology Clinic, Business Club, Leadership School, Mahan Seminars Center, Mahan Business School, Management and Entrepreneurship Consulting Center, Department of Publications and Books (Digital), Individual Research and Development Center, Peace and Awareness Foundation (Social Responsibility), and Professional Ethics.
Advantages of Joining Mahan
We, the members of Mahan, pledge to be committed to our principles to promote the values of Mahan
Honesty and Goodness in our thoughts, words and deeds

To serve ourselves and people

To be decisive to make things happen as it is planned

To move continuously on the way to excellence

following passionate goals

To create a sense of satisfaction and joy for yourself and others

Belief in the culture and values of the organization

To believe in innovation and creativity

To be committed to continuous learning and growth

To be great in whatever we are inspired to do
MAHAN'S INTERNATIONAL OVERVIEW
Studying abroad will boost carrier opportunities, and gaining up-to-date knowledge has always been a dream for the working students'. Although studying abroad has its advantages, however, they may face several psychological and financial pressures that will be consider as disadvantages. Mahan Business School International Dept. was formed in 2008 to reduce the pressures of working and studying as well as upgrading the quality of education. As a result, MBS commenced striving to set up a mutual scientific partnership with selected prestigious business schools to invite experienced professors to Iran.
The first collaboration took place between MBS and UCSI (University College Sedaya International) and MSU (Management & Science University) in Malaysia. Mahan Business School accompanied two successful consecutive MBA programs with MSU.
In pursuing such ambition, MBS continued expanding its cooperation with the Maastricht School of Management (MSM), University of Management, Economics and Finance (UMEF), the University of Geneva Switzerland, University Putra Malaysia (UPM), and an online program with the International American University of California. (IAU).
Development of knowledge and skills nationally and internationally in management and to be recognized as one of the leading Business Schools in Higher Education worldwide.
The main objectives of MBS are as followed:
 A) Cultural and Educational Exchange
Mutual collaboration with well-known universities and business schools all over the world, offering mutual programs in MBA, DBA, and Ph.D. to fulfill the need for higher quality education.
B) Upgrading and updating the quality of education
Mahan Business School has mutual agreements with reputable universities providing international programs in management (MBA and DBA). These programs empower students and executives to face the challenges of the world's markets in a technical and practical approach.
C) Innovation & Progress
Path to progress within the global business arena requires an extensive search for brand new methods in education to be used for managing professionals and keep them updated with an innovative approach.
D) Exchange of Thoughts to prospect excellence
Approaching excellence is the main objective of Mahan Business School by prospecting major centers of higher education throughout the world. We treasure the exchange of knowledge and insight in management received through such an approach as well as in extending our international MBA & DBA programs through our cooperation with such centers.
Mission
Mahan Business School (MBS) is committed to encourage business management knowledge to satisfy the essential needs of executives, senior and junior managers. Therefore, managers and entrepreneurs will be empowered to face the realities and issues of global and domestic markets and ultimately develop their capabilities to direct their businesses and society successfully.
Vision
Mahan Business School aims to be the leading business school in Iran and among the top 100 business schools in the world to contribute and redefine the future of society and business in Iran.
Mahan as a Business Environment
Mahan Business School
Mahan Business Seminars Center
Mahan Business Club
Mahan Business Applied Research Center 
E-Learning Department
Leadership Department
Psychology Clinic  
International Business Development Department
Management & Entrepreneurship Consulting Center
Foundation for Peace, Awareness and Professional Ethics
Research Center For Personal Development (Coaching)
Mahan Publication Center
Mahan Doctorate (Ph.D) & Master Preparation Courses
Mahan Business School Services
International MBA and DBA programs
Leadership courses
Local MBA program
Local DBA Programs
Short-courses (tailor-made courses)

 

Professional CEO
Green Management
Training Startup Managers
Professional Marketing Managers
Digital Marketing Managers
Professional Sales Managers
Professional Sales
Brand and Advertising Management
Professional Business Consultant
Professional Coach
Professional Business Leadership
Start-up courses



E-learning
Universities entrance exam preparation courses of Doctorate degree
Mahan Business School Publications
Business seminars and workshops
Management consulting center
Mahan portal
Iran MBA Society (IMS)
E-magazine
Movie-nights with Business approach
A Cup of Tea with the Flavor of Experience (Inviting entrepreneurs to seminars)
Mahan Business Club Network
Business tours
Start-up grind
Business podcasts
Think tanks for businesses
Psychology Clinic
…